TBR Tuesday Review: Accidentally Gay by Lucky and Wolsey Bradley

Accidentally Gay: The True Love Story When a Wife Becomes a Husband by Lucky and Wolsey Bradley. This book details Wolsey's transition in alternating points of view from both men, who have been together since their teens. Lucky and Wolsey never had easy lives, but they did have complete acceptance for each other--something hard to find in marriages across the board. Accidentally Gay is one of the most heart-warming shared memoirs I've read. If you are in need of a heavy dose of hope, skip this review and just buy this book now.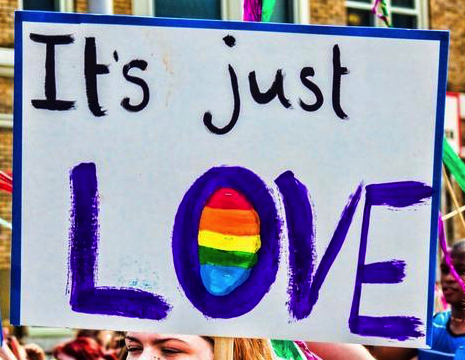 From Goodreads:
When Lucky Bradley married his wife 25 years ago, he had the happily ever after he'd always wanted. Then, 20 years into their marriage, he found himself in a same sex marriage, as his wife transitioned from wife to husband. True love wins out as they explain what this means for them and their relationship in Accidentally Gay, the blog that chronicled the day-by-day transformation of this happily married couple.

When Wolsey married Lucky, he never thought he could be his true self. After 20 years, he took a chance, and transitioned female to male. To his joy, his husband accepted him, and was his biggest cheerleader throughout the process. But most of all, he loved him throughout the arduous physical and emotional process.

Some love stories do have happy endings.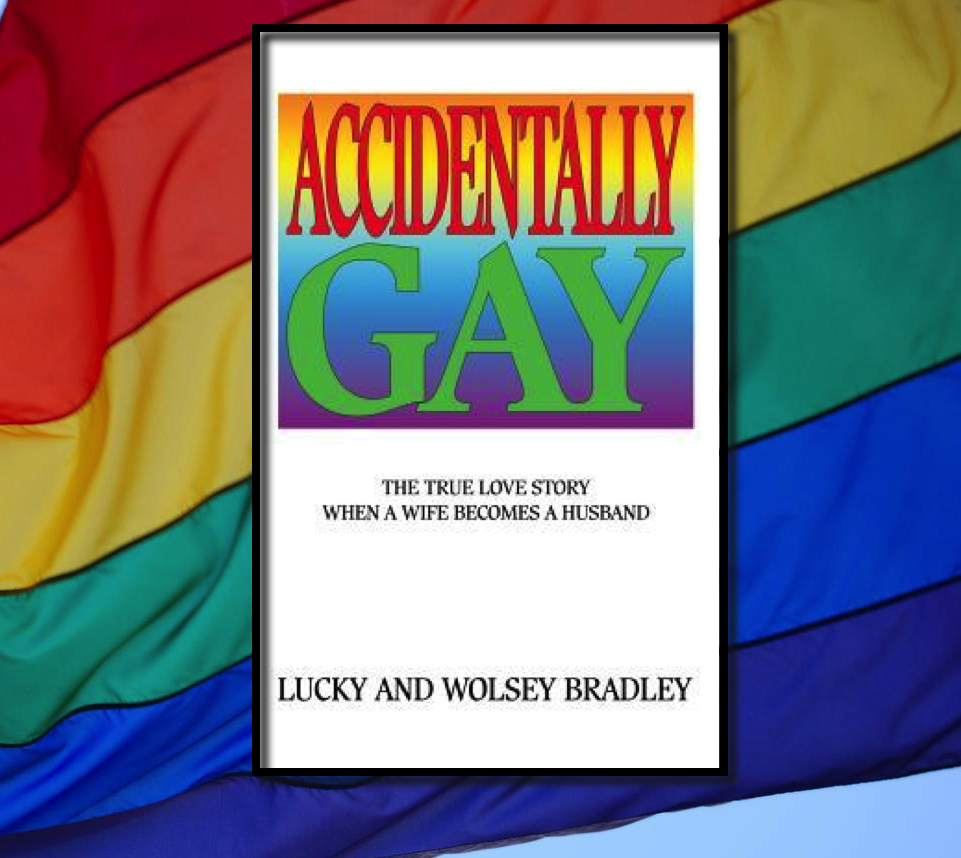 The book starts with the following epigraph:
Fear is not real. It is a product of thoughts you create. Do not misunderstand me. Danger is very real, but fear is a choice. —Will Smith
I think danger, fear, and safety are very much at the heart of all if not most transgender stories: how to be true to yourself and yet remain physically safe. And of course there's another danger beyond physical safety, and that's expulsion from your family. But that's not this book.
This book is about two happily married people who loved each other before, during, and after transition. The Bradleys learned that when it came to marriages where one partner was assigned female at birth and transitioned to the proper sex, they were the exception for staying together, not the norm. Straight people told Lucky how "brave" he was for staying with his partner. The transgender community distrusted him and assumed that sooner or later he'd abandon his life-partner. It was hard for Lucky, the non-transitioning husband, to find any support at all. Meanwhile, Wolsey was navigating the physical, social, and economic effects of transitioning. But one thing that shines from every page is how devoted this couple is to each other. They talked about everything, from pronouns to hand-holding in public, to what to do about old photographs. How Lucky could defend Wolsey without causing him more problems. At the center of everything is their love and consideration for each other.
This book contains original blogs written in situ and expands them to include further reflection from both men. There is a fair amount of repetition due to this structure, however, it's worth it. The story is touching without being sickly sweet. It's funny, deeply honest, and shows all of us what true love looks like. They are candid about Wolsey's transition, providing details in a matter-of-fact way that never falls into salaciousness.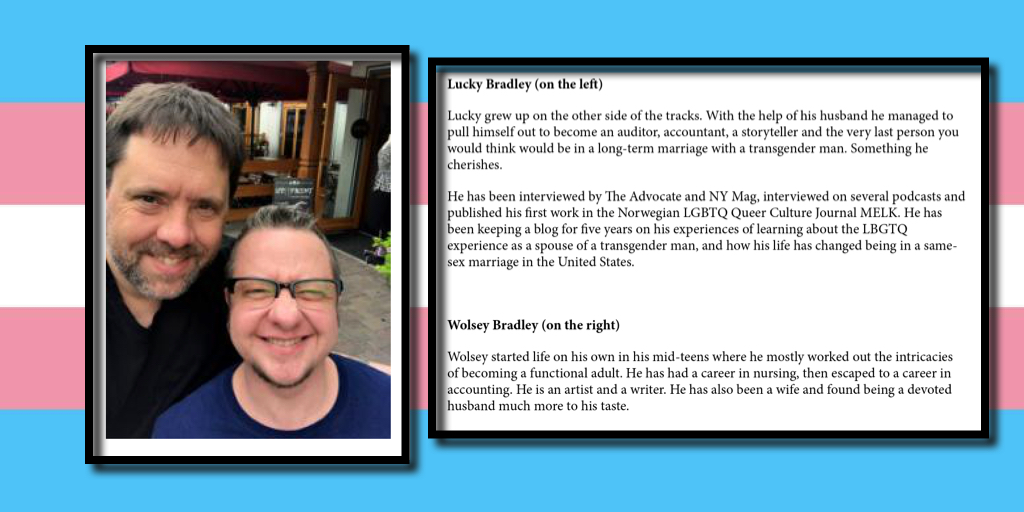 Riverdale Avenue Books is an indie press that publishes a good amount of queer and trans-positive books. If you're a writer or reader of the LGBTQIA genre, check them out. I received a free digital copy on Net Galley in exchange for an honest review.