TBR Tuesday: Giveaway for THE DREAM PEDDLER and Interview with Martine Fournier Watson

Today is the release day of THE DREAM PEDDLER which Rene Denfeld, bestselling author of The Child Finder described as:
"Astonishing . . . Explores the vast underground legacy of our own desires. This is the must-read book of the year."
We're giving away a copy to one lucky reader! Scroll to the bottom for information on how to enter.
About The Dream Peddler:
A page-turning debut novel about a traveling salesman and the small town he changes forever, both a thoughtful mediation on grief and a magical exploration of our innermost desires

The dream peddler came to town at the white end of winter, before the thaw . . .

Traveling salesmen like Robert Owens have passed through Evie Dawson's town before, but none of them offered anything like what he has to sell: dreams, made to order, with satisfaction guaranteed.

Soon after he arrives, the community is shocked by the disappearance of Evie's young son. The townspeople, shaken by the Dawson family's tragedy and captivated by Robert's subversive magic, begin to experiment with his dreams. And Evie, devastated by grief, turns to Robert for a comfort only he can sell her. But the dream peddler's wares awaken in his customers their most carefully buried desires, and despite all his good intentions, some of them will lead to disaster.

Gorgeously told through the eyes of Evie, Robert, and a broad cast of fully realized characters, The Dream Peddler is an imaginative, moving novel of overcoming loss and reckoning with the longings we keep secret. (PenquinRandomHouse)
Martine Fournier Watson is originally from Montreal, Canada, where she earned her master's degree in art history after a year in Chicago as a Fulbright scholar. She currently lives in Michigan with her husband and two children. The Dream Peddler is her first novel. Follow her on Twitter, Facebook, or Instagram, and check out her website.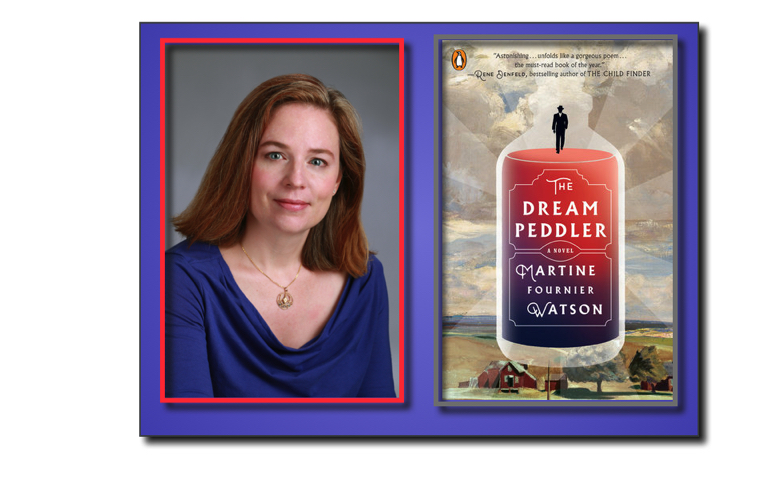 The interview:
LL: You grew up in Canada and now live in the US. What was the hardest adjustment?
MFW: The hardest thing for me was actually not moving to the United States from Canada. What I found difficult was moving from Montreal—a large, multi-cultural city bursting with festivals, museums, recitals, lectures, and restaurants—to a much smaller Midwestern city of about forty thousand people. This was sort of like a huge reverse culture shock for me. Suddenly, everything I loved about growing up in Montreal was almost entirely missing—the variety of cultures, languages, food, and art. The silver lining in this was that there wasn't a whole lot for me to do, and I had to entertain myself, which I did by painting and writing. (I was unable to work for the first year because my visa only allowed me to live here with my Canadian husband, not to be employed.) The small city where I live goes to a lot of trouble to provide beautiful walking trails, and I've logged a lot of miles on many of them, which is often when I do heavy thinking about my books and characters. In that first year, I published a poetry chapbook and wrote a book of short stories. I tested my literary mettle by entering some of those stories in contests and submitting them to journals, and when I had some success with that, it really encouraged me to keep going. So in the end, I think the transition worked out okay.
LL: Have you experienced any negativity or anxiety around publishing? What got you through?
MFW: So far, the worst part for me has actually been about the last six months or so, waiting to debut. I really had no trouble waiting patiently to find an agent, or waiting while we were on submission, but once I got closer to publication and I started to build more of a writer's community, both on Twitter and by joining Facebook groups, a strange and unexpected thing happened—jealousy.
I don't consider myself a jealous or competitive person, but there are some aspects about this dream come true that I've discovered can bring out the worst parts of ourselves. The writing community has been so good to me, and I really treasure the relationships I've formed online. It's a great experience to go through being a debut with a group of people who understand. That being said, it was only after I became active in these groups that I also became aware of the milestones out there for authors, and especially debuts. I had no knowledge of starred trade reviews or book lists circulated by outlets like Barnes and Noble or The Millions. All of a sudden, I was painfully aware, because I wasn't making lists or getting any starred reviews. My instinct is to be happy for other authors who make tons of lists or have their book featured in O Magazine, but it's quite a challenge to feel only happiness and not even a twinge of envy. There are days when my social media feeds are choked with other people's good news and success, and that can be tough to process when it feels like your own book is lagging behind.
As for what got me through it, I can't answer that in the past tense because it's an ongoing problem, but I do have a few ways of coping. First, I focus on the work. I come back to my writing because it's the one part of this whole process that I love, and the only part I can actually control. Second, I remind myself to practice gratitude. Looking for validation from lists and reviews is all about the future, about hoping that this kind of recognition will lead to more people reading the book. But it's very important to stay in the present—I'm so fortunate to have a perfectly lovely present filled with so many things I'm grateful for, within the world of publishing and outside it. Instead of comparing myself to authors who seem to be having more success (even before our books are out!), I remind myself of all those writers out there who would love to have what I have. I compare myself to where I was five years ago, or even last year. I'm trying to cultivate this as a reflex—feeling a twinge of envy? Remember how lucky you are! It kind of works.
LL: What is your advice for aspiring writers?
MFW: Honestly, this might sound trite, but it's don't take writing advice too seriously. There's an awful lot of it out there, much of it contradictory, and I feel like it's all too easy for writers, particularly those with less experience, to lose track of their own voice with everyone else's clamoring in their ear. If something really resonates with you, then great. But there is never any need to adopt someone else's best practice as your own. You don't need to write every day, plot books before you write them, or kill all your darlings. I think much of writing is about finding your own way. The only way to learn it is by doing. Reading widely and just doing it. It's okay to trust your gut, even if you're flying in the face of really sound "writing advice." Maybe especially then. Only you know the kind of writer you want to be, so at the end of the day, be that. Your instinct is more important to your work than anyone else's.
LL: Talk about one book that made an impact on you.
MFW: I can't resist bringing this up because it means more talking about The Dream Peddler, so I'm going with L. M. Montgomery's Emily of New Moon trilogy. Actually, all of Montgomery's books had an impact on me, because I read and reread them growing up, so I have to think they had a lot to do with shaping my view of the world. Maybe they appealed to me because most of them take place in rural Prince Edward Island, and I was growing up in the city. Maybe I just loved how much they focused on girls and their friendships and coming of age. My life was quite different from theirs, and yet I recognized myself in them.
I liked Emily a lot more than Anne of Green Gables. This was partly because of Emily's passion for writing, but also because her flaws were so much more obvious. Pride. Vanity. And unlike Anne, who tried so hard to be good but always ended up in a "scrape" by accident, Emily misbehaved on purpose. I resembled her much more closely than the eager-to-please Anne.
My constant immersion in Emily's world eventually led to my writing The Dream Peddler. In Emily's Quest, the third installment of Montgomery's trilogy, reference is made to Emily's very first novel, a book called A Seller of Dreams. However, this book is never published. After a few rejections, Emily gives the book to a trusted friend to read, and because he is jealous of the book, he tells her it's not good enough. Heartbroken, Emily burns it.
For some reason, this destroyed book haunted my imagination. The reader is never given any insight as to what it may have been about, except that it was some kind of contemporary fairytale. It was a book I always wanted to write myself, if only to satisfy my own curiosity about what shape such a story might take. After wondering about it in the back of my mind for many years, I finally sat down to write my own version when I was in my late thirties, and now that book is my debut.

Winner chosen Monday, April 15, 2019, which is also tax day in the US. Wouldn't it be cool to win something on tax day?