To Be Read Tuesdays: A Dreadful Fairy Book by Jon Etter

This week I'd like to introduce you to A Dreadful Fairy Book: A Fairytale for Readers of All Ages By Jon Etter (Narrated by Quentin Q. Quacksworth)
This is a rollicking romp with themes of friendship, forgiveness, and the value of books. It calls itself "A Fairytale for Readers of All Ages" and I'd feel comfortable giving it to my 10-year-old or my 13-year-old and I quite enjoyed it at age 45.
It's truly a boisterous, entertaining fantasy and the characters are delightfully deplorable—heavy on the delightful. It goes without saying that I found that the characters in general are a lot less deplorable than the narrator found them.

A Dreadful Fairy Book is narrated similarly to A Series of Unfortunate Events. I love that the imaginary narrator, Quentin Q. Quacksworth, is listed on the book jacket. It invites the reader to set aside reality and dive into this imaginary world more fully.
The narrator's interjections are a highly functional way to explain the various creatures or introduce backstory in a humorous and engaging way.
For example:
"In the unlikely event that you've ever seen a fly cry, you'll know that when they do all the little mirrored squares that make up their eyes steam up until beads of water form and run down in streaks, just like the mirror in your bathroom when you are forced (and I agree with you, most unfairly) to take a long, hot bath after a good play."
Or there's this one:
"(but then since I'm sure you know that hobgobins look just like goblins but shorter and hairless, the 'hairless' part doesn't deserve any mention, does it?)"
And also this:
"…come near one of them [fairy war ponies] with sticky fingers and it might well bite them off before stomping you to death."
The characters have fun and imaginative names I think kids will love:
Stinkletoe Radishbottom

Chauncey X. Troggswollop

St. Figgymigg

Liam O'Buggery
I loved how Etter incorporated a love of books into the core of the story. There are funny little riffs on Pride & Prejudice, Midsummer Night's Dream, Moby Dick, The Hobbitand a bunch more that adults will enjoy, though kids might not understand.
In spite of the fantasy nature there are some good solid truths in it as well, such as:
"No place is safe as long as there are stupid, selfish people doing stupid, selfish things."

"None who go to war come back unscarred."

"I chose this one because even though it is dreadful, a dreadful story is usually preferable to a mediocre one because it is at the very least memorable."
Shy kids might relate the Professor, who doesn't speak, yet is an invaluable member of the team:
"Ginch is the best friend I've ever had. I don't need words, written or spoken, for him to understand me."
Illustrations weren't available in the kindle version, so I have no comment on them, other then I hope they hold up to the quality of the story!

Now for the Parental Notes:
There is a lot of faux-swearing. A lot. It's pretty creative:
"get donkled"

"bucket o' snots"

"dingle-dangle dungballs"
I think kids will really go nuts for it, some parents might be less than thrilled, particularly if their kids started mimicking the faux-swearing as often as the characters in the book. But there are no real curse words in it.
Many of the characters speak with a dialect which some people may find problematic. Is the author riffing on Italians, Germans, etc. in his use of accents? Or is his imaginary world too close to ours? It reminded me of my father reading books aloud and doing voices for the different characters—that it wasn't meant to mock them, but to differentiate them.
It wouldn't keep me from giving the book to my child, but I would talk to my kid afterwards and ask them their thoughts on the dialects. I like to do a "family book club" where we discuss the pros and cons of books and try to get my kids thinking beyond the entertainment value to the bigger picture.
Overall, this feels like a book a parent wrote to entertain his children. (I'm not sure the author actually has children, though he is a teacher.) It seems to be less concerned with what grownups think of it, and more concerned with pleasing a younger audience. I feel as if it delighted the author to read it as much as it delighted me to read it. As a writer, that's enormously refreshing.
Order A Dreadful Fairy Book today and be one of the first to read it! Follow Jon Etter on Twitter (I find him very engaging) and check out his website to stay undated on all things dreadful.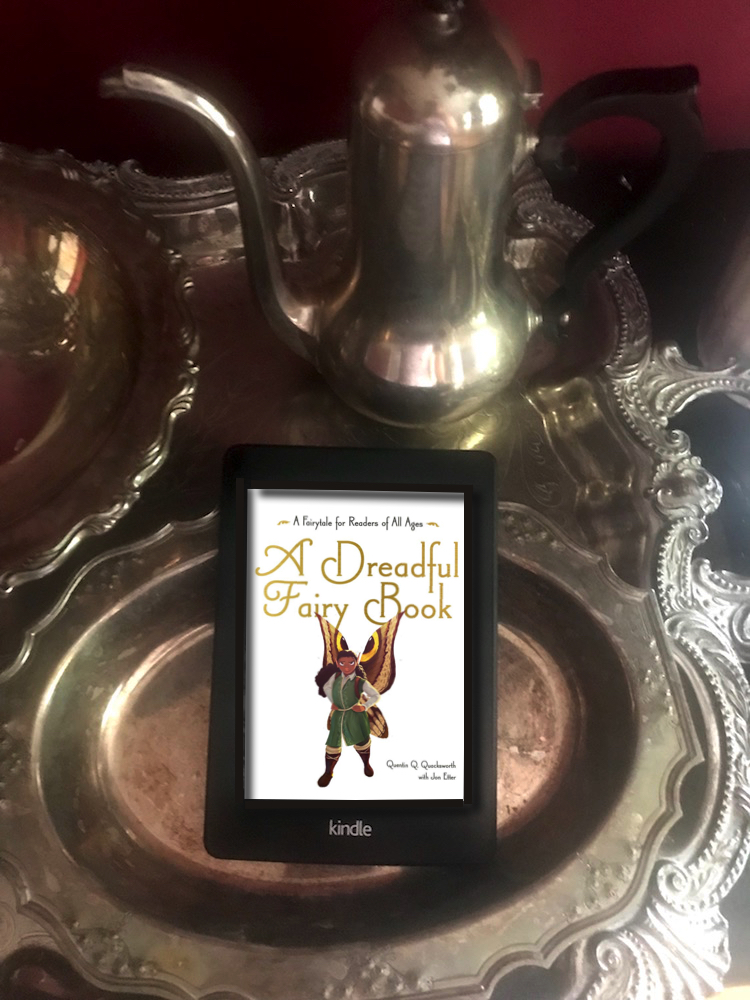 Thanks to NetGalley for a free digital copy in exchange for an honest review.