The Cost/Benefits of Writing Conferences

I was chit-chatting with an author recently about the expense of writing conferences, and, as always, the conversation continued in my head long after I went home. Two days later, I read an interiew in a major magazine with a writer I met at a writing conference written by someone they met at a writing conference. That power of the networking thing is real. Since I really love to give advice and I'm also avoiding working on other more pressing things, it seemed a good time for a blog post.
How to Make Attending Conferences More Affordable:
Writing conferences cost money. How much money is variable, but with travel, lodging, food and registration fees, it's definitely a commitment. There are, however, ways to mitigate some of the expenses.
1. Air BnB is my best friend.
Last summer I rented an Air BnB with two other writers. The cost was $30 a night each, as opposed to $200 a night for the hotel. Bonus—I had people to chit-chat with and there was a kitchen. One of my roommates drove, so we all chipped in for gas and parking.
2. Volunteering to reduce registration fees.
I have social anxiety. Left to my own devices, it's very easy for me to sit by the wall, open my laptop, and vert inward. I learned that volunteering forces me out of my shell. I have to talk to people, smile, and somehow feeling responsible for the success of the conference switches me from shygirl to person with social skills. We can bring our enthusiasm when we have to, and I've learned that ensuring I'll have to ratchet it up a notch brings out the best in me. Also, it reduces registration fees, which was my point in bringing it up.
3. Go close to home.
One of the writing workshops I attend every year was chosen by proximity. I was in town, I could eat at home, and I could rollerblade to the facility. Being local also gave me something to talk about with out-of-towners—I knew all the best places to eat on a budget and the tourist traps to avoid. Did I mention that I love to give advice? (See opening paragraph)
4. Follow your dream conferences on social media and look for scholarships.
Someone will win. Why not you?
Pick One Conference and Maximize the Experience
I don't have a lot of time or room in my budget to attend every conference I'd like to. Since conferences are generally on weekends and I don't have my kids every day, peeling myself away on a weekend isn't somehting I take lightly. When I do go, I try to suck everything I possibly can out of it.
For every conference I attend, I set goals. What am I trying to accomplish here?
Some of my past goals:
Figure out what's wrong with my plot.
Find out how to be more intentionally funny.
Explore a genre I don't generally write in.
Find critique partners.
Find beta readers.
Find an agent/publisher.
Find someone to Blurb my book.
Become a presenter.
Having goals made me go out of my way to speak to strangers, instead of just hanging out with the one or two people I knew.
For more information on how to maximize conferences, check out Lisa Ellison's blog: Schmoozing For Introverts: How to Network Like a Pro.
What I've Gotten Out of Conferences:
Friends to commiserate with and talk writing and books with.
Critique partners.
Beta readers.
A publisher.
People to blurb my books.
People to interview for my blog and thus not have to be original every week.
Writing opportunities.
Speaking opportunities.
I got to meet some of my writing idols and they actually spoke to me and sometimes I even got up the nerve to ask them ot autograph my books and they did, and other times I didn't have the nerve to speak to them and instead rode silently up and down the elevator with them but at least I got an awkward story to tell people.
Also, candy from Canada.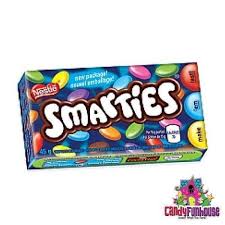 While I can't guarantee candy from Canada at every conference there is always a chance and do you really want to miss out on free candy? No, you do not.