TBR Tuesday Review: Punctuation Without Tears by Dominic Selwood

I'm waiting for the day when I can plug a USB into my left ear and download all the information I want to know, but don't want to take the time to learn:
karate,
seven languages,
the proper use of the comma.
Until the USB-brain connection is a reality, we have to continue to do the reading thing. Luckily, Punctuation Without Tears is actually is fun to read as well as informative, even if it doesn't teach you how to do karate. (To be fair, it never promised that.)
From Amazon:
Punctuate with confidence the easy way! A quick, funny, illustrated guide to all the punctuation you'll ever need to know. Whether you want to master punctuation for school, university, creative writing, journalism, business or anything else, this zany little book abandons complex rules and offers simple guidance for British and US English.

In an easy and engaging style suitable for all ages, this short guide goes through all the common punctuation marks, explaining how to use each one, and showing how to avoid some of the commonest errors.

Using funny, memorable examples, it allows you quickly to master all the common punctuation marks: periods (full stops), commas, colons, semicolons, exclamation marks, question marks, dashes, hyphens, apostrophes, quotation marks, brackets, and ellipses. It also has sections on how to handle two punctuation marks next to each other, numbers, -ize and -ise, and a wealth of other style advice. Many of the chapters are brought to life with whacky illustrations.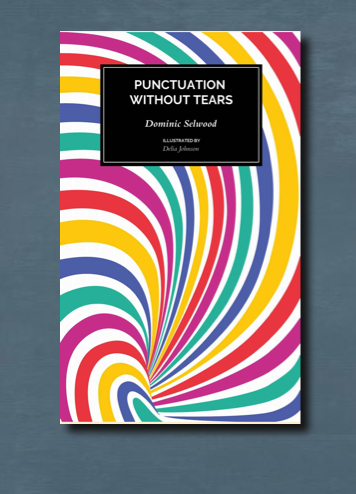 The illustrations break up the text blocks and make it fun. Selwood's funny example sentences make it truly a joy instead of a chore to read. I found the history of punctuation fascinating, but what I loved best was the framing of punctuation as a stylistic choice instead of a list of rules requiring memorization. This made my inner rebel shut up and sit down. At age 45 I still hate being told what to do. Sure, Selwood included some hard and fast rules--such as one space after a period--but there is also a degree of leniency I didn't expect from a manual.
Since I once spent an entire semester defending my love of the semicolon to my advisor, I responded well to this approach. If you're not up on the semicolon controversy, Selwood writes,
"After a long and useful life, the semicolon is now, tragically, in the Emergency Room. Worse, some doctors are seriously debating whether or not to put a "Do Not Resuscitate" sign at the end of its bed."
Luckily for me and other semicolon lovers, Selwood is not one of these doctors. He gave me permission to continue my use of the semicolon, and moreover, confidence that I was using it correctly. (If you're curious, my advisor never budged on his disdain for the semicolon in spite of my frequent protestations.)
It truly is the least painful explanation of punctuation I've ever encountered, and currently only 99 cents on Kindle.