TBR Tuesday Review + GIVEAWAY: THE PERFECT ASSASSIN by KA Doore

Today's suggestion for your To Be Read list is a brand-new release: THE PERFECT ASSASSIN (The Chronicles of Ghadid #1) by K.A. Doore!
We're offering up a free copy to one lucky reader—details at the end of this post—international entries are allowed!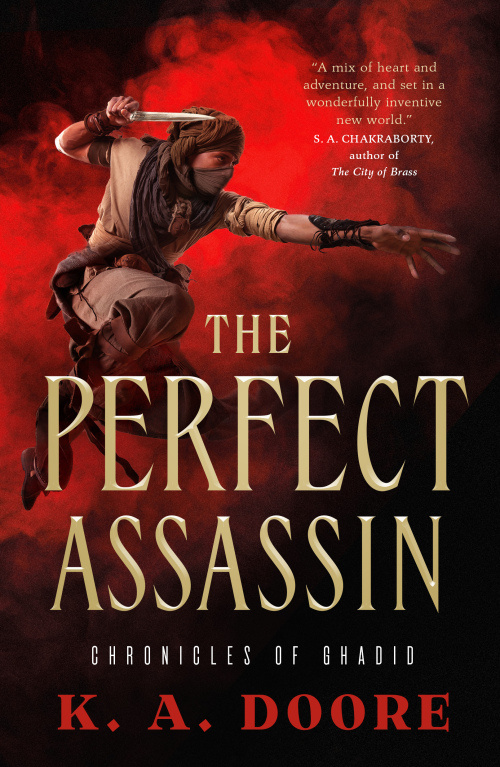 About THE PERFECT ASSASSIN:
A novice assassin is on the hunt for someone killing their own in K. A. Doore's The Perfect Assassin, a breakout high fantasy beginning the Chronicles of Ghadid series.

Divine justice is written in blood.

Or so Amastan has been taught. As a new assassin in the Basbowen family, he's already having second thoughts about taking a life. A scarcity of contracts ends up being just what he needs.

Until, unexpectedly, Amastan finds the body of a very important drum chief. Until, impossibly, Basbowen's finest start showing up dead, with their murderous jaan running wild in the dusty streets of Ghadid. Until, inevitably, Amastan is ordered to solve these murders, before the family gets blamed.

Every life has its price, but when the tables are turned, Amastan must find this perfect assassin or be their next target. (Goodreads)

Why I loved it:
It's a fantasy, with solid visual and vibrant world building—one of the most richly detailed I've read. Perhaps this relies on Doore's artful skill in giving the reader enough detail to start us down the path of imagination, but not so much description that we can only see the writer's vision. There was a death scene that was so unusual, visual, and fresh that I had to step back and admire it.

While this book is officially fantasy, it really transcends genre. It's a murder mystery with an undercurrent of romance. It's about courage and trust and betrayal.

One thing particularly noteworthy is the equality between genders—strong female characters work cooperatively with strong male characters, not in opposition to them. The male-female power struggle has been eliminated from this society. So, too, is any heteronormative bias—gay people just people. Some are heroes, some are villains. It's not about acceptance any more than we say "I accept the sky is blue or water is wet." People are gay because they are, no biggie.
On to the interview!
LL: You've said that you wrote a book you wanted to read. Can you speak about that?
KAD: I've always wanted to read a book that was casually queer in all the best ways and also had a world you could all but step into, characters complex and morally gray, and a fast-paced plot with plenty of action that also allowed room for introspection and surprises. Basically, everything great about fantasy but also gay.

When I started writing this trilogy (five years ago, oh my), there just wasn't much in the way of queer adult fantasy on the bookshelves. Since then, I've read several amazing books that touched on all those things I wanted (special shout-out to The Tiger's Daughter by K Rivera Arsensault and literally everything by Seanan McGuire), and now we're getting more every year, and fantasy has come a long way already from the not-remotely-halcyon days of everyone being straight and cis and white - but we've still got a long ways to go.

Now of course, I'm all but certain I didn't quite write that perfect book I wanted to read, either, but I tried, and I'm going to keep trying.
LL: I've also seen on the Twitter that you have a second book coming out. How did that come about? Did you have both written before querying? If not, how far along were you? Did anyone want any revisions to book one that forced you to change book two? Or while writing book two, did you need to go back and fix something in book one?
KAD: Oh goodness. So Book Two (aka the Impossible Contract) was once Book Only and was the book I caught my agent with. When that book sold, the publisher asked me to turn it into a trilogy.

For various reasons at the time – one of which may have included being incredibly sleep-deprived because I'd just given birth two weeks prior – I insisted on writing a prequel and a sequel instead of the more traditional two sequels. The publisher agreed and suddenly the clock was ticking on Now Book One, Now Due Yesterday, which would become the Perfect Assassin.

It was a strange experience, moving backwards in order to write forward, but it was also very satisfying. I had more time and story to develop the characters and the city and the whole of the trilogy is 10 times richer for it. It felt a bit madcap crazy sometimes, but I wouldn't have it any other way.

The way things fell, I ended up revising both Book One and Book Two for my editor at the same time, so I absolutely used that opportunity to make small tweaks in each for continuity, characterization etc. Aside from cutting 20k words, Book Two didn't substantially change from its query days, though.
LL: You have created such a rich and vivid world. What was your world building process like? Did you fill out forms and create vision boards, or did you just write it out, and the world was encapsulated entirely in your mind?
KAD: First: thank you. ❤

Second: will someone hit me if I said I kept it all in my head?

Okay, not all of it…

I have a very messy word doc that contains tons of rambling to the effect of "omg jaan do this" and lots of notes from the 3-month deep research dive I did. It is a work of chaos that starts out with definitions for all the different types of desert and quickly devolves into funeral rites and water allocation systems.

But I very rarely open that document. >:)
LL: Which talent do you wish you had?
KAD: I wish I could work on my phone like Mike Chen.
LL: What's your secret or not-so-secret superpower?
KAD: I don't get lost. I can almost always point out where north is, even when I'm turned around inside of a building. I do, however, frequently get left and right mixed up.
LL: What completely incorrect assumption do people make about you?
KAD: That I love blood and gore. I'm actually the world's biggest wuss when it comes to both of those and I have to skip gorey bits in books, lest I start getting lightheaded and dizzy. Watching it is a lot worse – I can't do pretty much any HBO show, for example.
Yet I somehow got through Hannibal. *shrug emoji*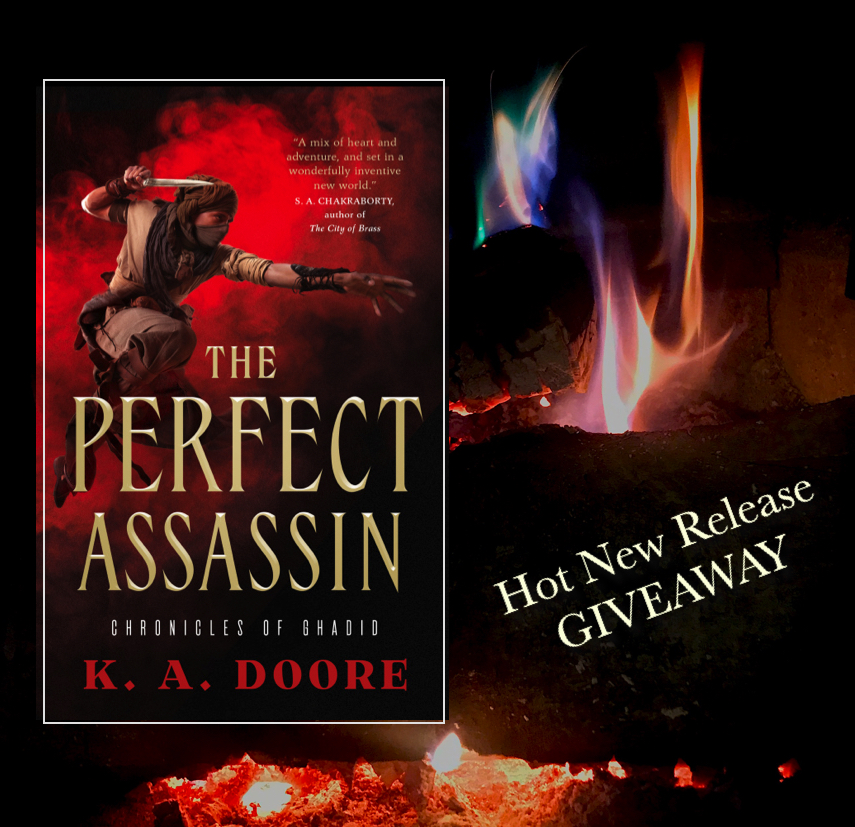 Get a copy at Amazon, Barnes & Noble, or Indiebound, or request it at your local library.
To win a copy of THE PERFECT ASSASSIN, retweet this interview or share it on Facebook. International entries are allowed! Winner chosen Monday, March 25,2019.