TBR Tuesday: Exit Plans for Teenage Freaks by Nathan Burgoine

Exit Plans for Teenage Freaks by Nathan Burgoine is a fun queer rom-com sci-fi novel set in present time Canada. From Cole, our bullet journal loving protagonist, his ace BFF Alec, and Malik, the hottest guy in school, you will find someone to relate to or fall in love with in this Queer YA novel.
Teleportation - check
High School Anxiety - check
ASL - check
Hot Sportsball Player - check
Fantastically, Endearingly, Awkward Protagonist - check, check, and double check
From Amazon:
Being the kid abducted by old Ms. Easton when he was four permanently set Cole's status to freak. At seventeen, his exit plan is simple: make it through the last few weeks of high school with his grades up and his head down.

When he pushes through the front door of the school and finds himself eighty kilometers away holding the door of a museum he was just thinking about, Cole faces facts: he's either more deluded than old Ms. Easton, or he just teleported.

Now every door is an accident waiting to happen—especially when Cole thinks about Malik, who, it turns out, has a glass door on his shower. When he starts seeing the same creepy people over his shoulder, no matter how far he's gone, crushes become the least of his worries. They want him to stop, and they'll go to any length to make it happen.

Cole is running out of luck, excuses, and places to hide.

Time for a new exit plan.
5 out of 5 Stars

It was so engrossing and fast-paced that I read it in one sitting. It's funny, the characters relatable, and the plotline fresh. Burgoine uses the Rainbow Club to introduce some other members of the queer community (nonbinary, pansexual) as well as make room for bisexuality as a valid identity, all without sounding like he had an agenda. Burgoine also uses this story to introduce the hearing reader to the Deaf community and introduces the concept of Audism, again in a natural way and without sounding preachy. Nicely done.
Although labeled as YA, I would have no issue giving it to an upper middle-grade reader as well—I counted one use of the word crap and no other profanity, and the sexuality doesn't progress beyond some cuddling and a few kisses. Yet, it is mature enough to hold a teenager's interest (and I am far beyond my teen years and enjoyed it immensely). One thing my sons always complain about in literature is that it seems like every book has a missing/dead parent. We call it the Disney Syndrome. So I was doubly excited to find a book for young people in whcih the protagonist has happy parents he gets along with and looks up to. And guess what--it was still a good book! The angst doesn't come from not being accepted or not accepting himself--the tension is from this spontaneous teleportation thing that keeps cropping up at inopportune times. As a mother of a queer kid, it was doubly refreshing to find a well-written, entertaining read that didn't focus on the hardhips of being queer, yet without crossing into overyly rosy-sappy either.
In sum, this is a perfect book for anyone who enjoys queer characters doing things besides just coming to terms with their identity, you know, like teleporting and passing final exams.
Grab a copy of this hot new release on Amazon, Barnes & Noble, or IndieBound. If you can't justify another book purchase this month, ask your library to carry it.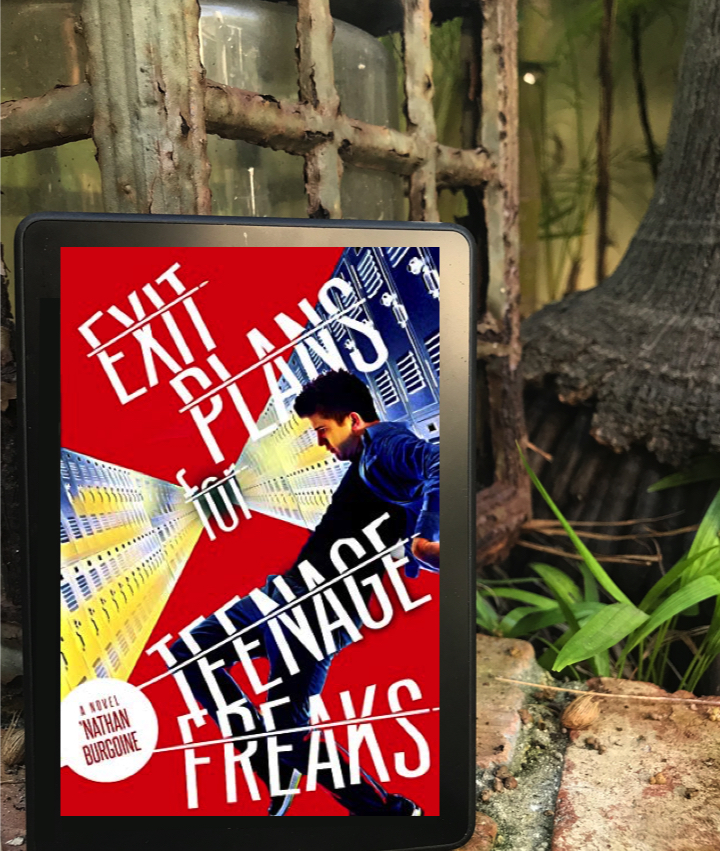 Thanks to Net Galley for providing a free digital copy in exchange for an honest review.