TBR Tuesday: A Feminist Giveaway for my Birthday!

I love my birthday, like a lot. Like the same amount that I loved it when I was eight except I no longer watch the phone and wonder if this year my dad will call. So actually, I love it even more. I also love books. If you follow me on social media, you know that I love to connect the right book with the right reader, and I'm all about the free books. So in honor of my birthday (lucky 46) I'm giving away two awesome feminist books:
The Not Wives by Carley Moore and New Erotica for Feminists: Satirical Fantasies of Love, Lust, and Equal Pay by Caitlin Kunkel, Brooke Preston, Fiona Taylor, and Carrie Wittmer.
Books change the world, and right now the world needs an awful lot of changing.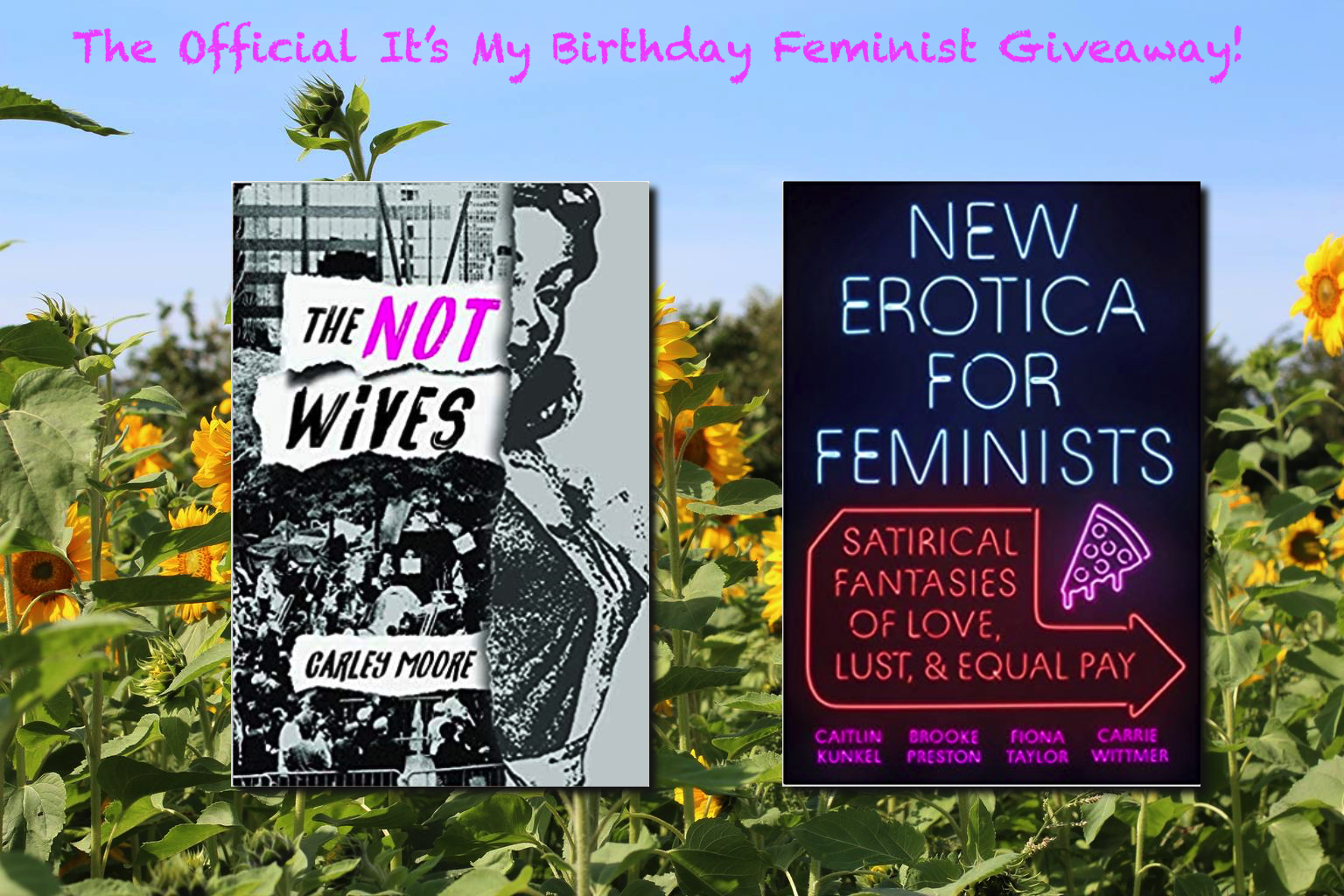 About The Not Wives:
Excerpt from my review on Mom Egg Review:
Moore braids together the stories of several women: Stevie, a college professor and mother who is going through a divorce ("…I'm just a woman who is no longer a wife. The not wife.") 105, Mel, her bisexual best friend, who is struggling to find her place in an open relationship, and Johanna, a homeless teenager Stevie meets in the park ("…I am a nearly dead thing, a husk of an earlier version of myself, just like the one who jumped.") 83.

Sprinkled throughout the book are lyric essays that speak to the collective experience of wives, husbands, and occasionally children...

Sex is not written about through cagey euphemisms, but rather with full disclosure that I haven't seen in a work of literary fiction before, and I found this revolutionary. In my opinion, social media portrays mothers as asexual bodyless creatures, without physical needs beyond coffee, wine and chocolate. Moore's female characters are unapologetically human, with bodies and desires. The same goes for her queer characters—they are flawed, complicated, and fully formed.

Moore is one of the most exciting recent voices in feminist literature, and The Not Wives is a must-read.
About New Erotica For Feminists:
From Goodreads:
He calls me into his office and closes the door . . . to promote me. He promotes me again and again. I am wild with ecstasy.

Imagine a world where erotica was written by feminists: Their daydreams include equal pay, a gender-balanced Congress, and Tom Hardy arriving at their doorstep to deliver a fresh case of LaCroix every week.

Both light-hearted and empowering, New Erotica for Feminists is a sly, satirical take on all the things that turn feminists on. From a retelling of Adam and Eve to tales of respectful Tinder dates, New Erotica for Feminists answers the question of "What do women really want?" with stories of power, equality, and an immortal Ruth Bader Ginsburg.
To enter this empowering and festive giveaway, comment on the tweet below with a GIF or photo of a cute animal with or without a hat. Also, you have to follow me or I can't DM you to tell you if you win.