TBR Tuesday: Aerovoyant by PL Tavormina

Political intrigue, an impossible mission, and a hint of romance, Aerovoyant delighted and captivated me from cover to cover. Tavormina's weaving of various perspectives was flawless, never causing me to stumble or loss track of a character arc.
I like to learn about our world when I read fiction.
I felt smarter after reading Jurassic Park (not the Jaws-like movie, which enraged me with how they oversimplified and Hollywood-ized it, but the actual book). It talked about chaos theory and bioethics all in a riveting story. Aerovoyant—while completely different—has that same way of weaving fact with fiction to make you feel as if you understand the world more deeply from having read it.
P.L.Tavormina describes herself on her website as:
Once upon a time I was a biologist, and then I morphed into a geneticist on the human genome project for a few years. More recently I've been a planetary scientist at Caltech, studying environmental impacts of fossil fuel disasters. Sometimes I teach at nearby colleges and universities, and you can occasionally find me giving talks at local libraries.
And this experience and knowledge shines in every chapter of Aerovoyant.
Speaking of…I wasn't sure how to pronounce "aerovoyant" or what it meant, but as I read the book, it became clear: it's a form of clairvoyancy, only reading the air. Once I understood the word, the pronunciation was easy.
This post-apocalyptic fantasy is set on a different planet, founded by refugees from Earth. The story follows Alphonse, son of a political manipulator, and Myrta, the aerovoyant in question who has been hidden and protected from everyone—family members, the discerners, and even from herself.
The two protagonists of different genders makes this book especially accessible to a variety of readers. Myrta is strong—actually, all the female characters are strong—but it was Alphonse's story that most captivated me. Taught by his grandfather (now deceased), Alphonse time travels to the start of life on earth, and we follow him through evolution after evolution, marveling at the wonder of adaptation. I found this thread to be hugely spiritual and engrossing. This book is a wonderful statement on climate change and the potential disaster our planet is facing.
Read Aerovoyant now for free on Kindle Unlimited, in preparation for Telomeric: The Industrial Age, Volume Two, coming Dec. 7!
Connect with P.L. Tavormina on Twitter, Facebook, Instagram, or her website. Sign up for her newsletter for free stories!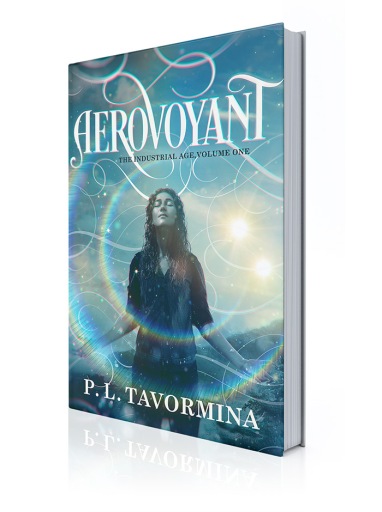 About the Book:
On planet Turaset, droughts ravage farmlands, cyclones rip through coastal cities, and with every barrel of oil the combustion industry pumps from the ground, the climate worsens. Alphonse has just refused a council seat because taking it means serving that rapacious industry. He leaves the city to seek solace in the wilderness, and there, a power to live the past awakens within him. Alphonse walks the steps of his distant ancestors on long-dead Earth, soon growing plagued with memories of its collapse, and he's left with a troubling certainty: He must infiltrate the combustion industry to secure proof of its treachery, or Turaset will be next to fall.
Alphonse finds an ally in Myrta, a farmgirl who sees air, every molecule in every pulse of breath or blast of exhaust. With her talent, she can evade the patrols on the industry's grounds. Together, Alphonse and Myrta can prove the industry lies about emissions. They can convince the councils to shut down fossil fuel use permanently.
But people in the industry have grown wise to Myrta's power—and now she's marked for death.