Pride Month Book Club: Adult Book Club Picks: The Gender Edition

Happy Pride Month! Every week I'll be posting some of my favorite queer books to help your book club celebrate Pride Month. I'll start with Adult Book Club Selections: The Gender Edition.
While this list is not meant to be exhaustive, I wanted to include different points of view on a similar topic. I am introducing you to a book of poetry, a few memoirs, a nonfiction resource, and a novel, because people find resonance in different genres. Besides, although I've never been in a book club, I imagine different ones have different genre preferences.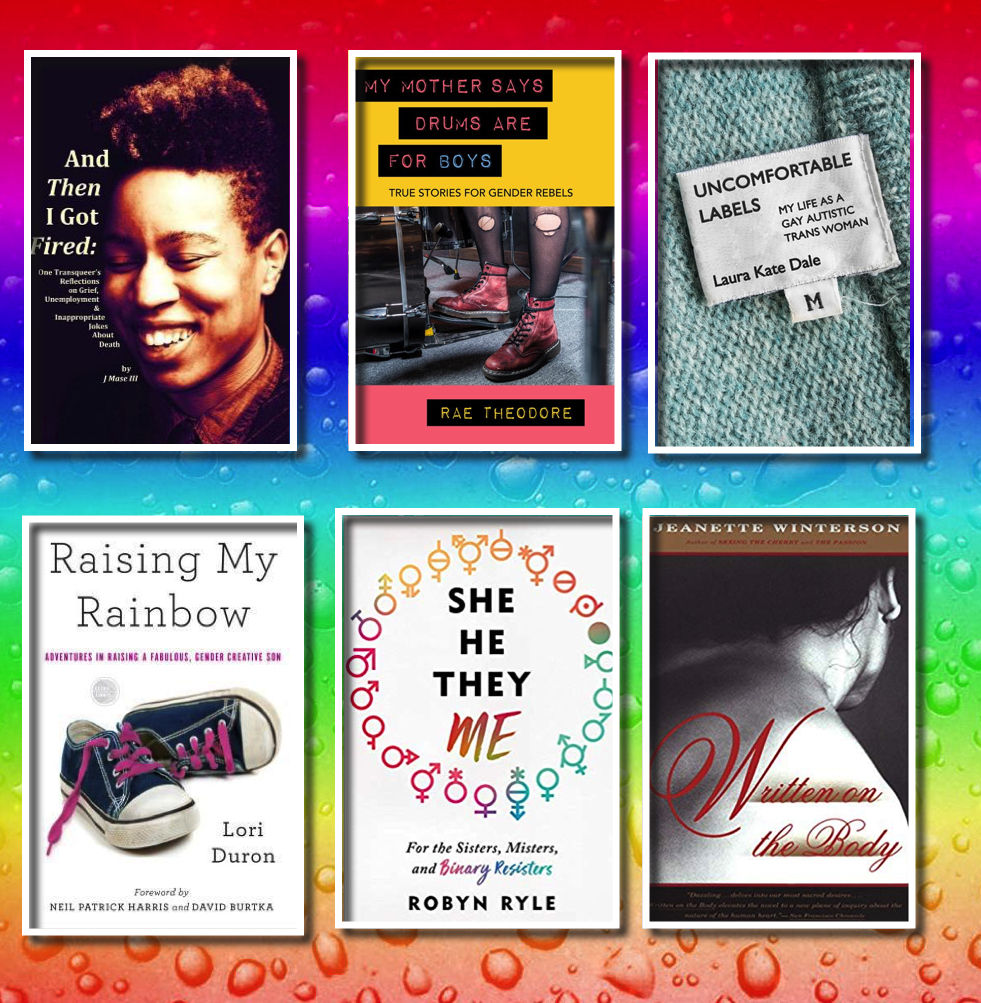 THE BOOKS: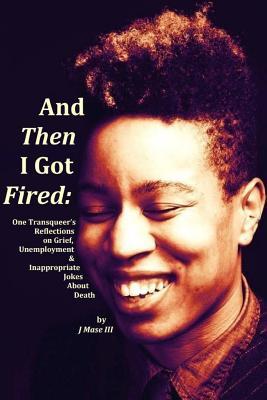 And Then I Got Fired: One Transqueer's Reflections on Grief, Unemployment & Inappropriate Jokes About Death by J Mase III
I just got this book, and it's so vibrant, I don't yet have words for it. It's written in an experimental form, and sections had my heart reeling and others lifted me up like a warm hug. That sounds trite. It's 8:00am on a Saturday, I'm not doing the word-thing properly yet. It's a wonderful book and I think it adds an important contribution to the conversation not just on gender, but on being human.
Feel free to scream directly into this book if you need to. It won't judge you, promise! This book gets grief. The good, the bad and the snotty noses. Through a healthy mix of poems, personal testimony, bad jokes and choose-your-own-journey workbook style, ""And Then I Got Fired: One Transqueer's Reflections on Grief, Unemployment & Inappropriate Jokes About Death,"" is an unexpected and lively conversation between the author and reader on grief, Black Trans survival and the arts. Whether you are currently moving through grief mode, love a good poem, or just want some tools to deal with painful experiences, this book is for you. More importantly, this book is for all of us who deserve a place to be honest when things get hard. (Goodreads)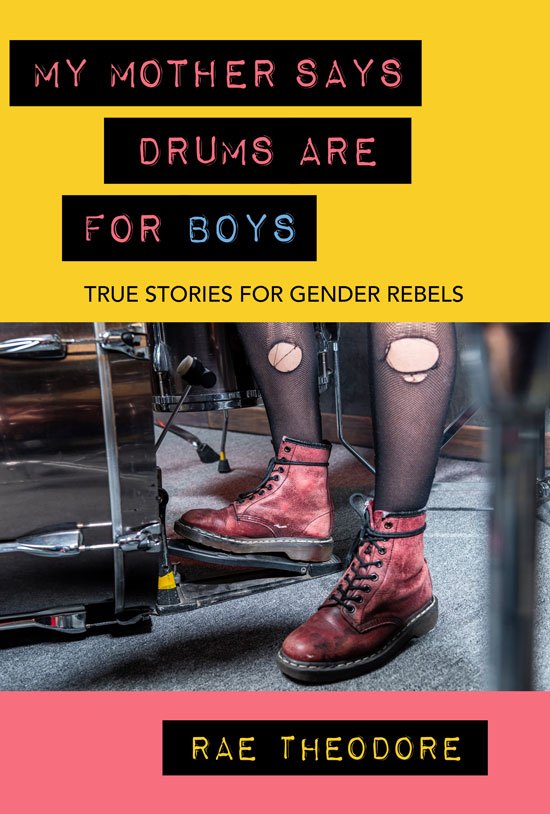 My Mother Said Drums Are For Boys: True Stories For Gender Rebels by Rae Theodore
This collection of linked essays got me in all the feels. It is still one of my top 5 memoirs, and I read a lot of memoirs! Rae Theodore crafts absolutley gorgeous sentences. And she's also funny.
My Mother Says Drums Are For Boys is a humorous and heartfelt memoir comprised of stories about that middle place where boy and girl collide. Rae Theodore grew up as a young butch (or tomboy, as it was called back in the day), wanting to play the drums, wear football jerseys like her brother and always be in close proximity to Olivia Newton-John. She's tried to conform to gender norms at different points in her life. She really has. It wasn't until Rae came out later in life and embraced those things that always made her happy-baseball caps, flannel shirts, neckties in every color of the rainbow-that she discovered her authentic self. My Mother Says Drums Are For Boys is required reading for all butches, genderqueers and other gender warriors and rebels, as well as anyone interested in looking at gender in a new way. (Goodreads)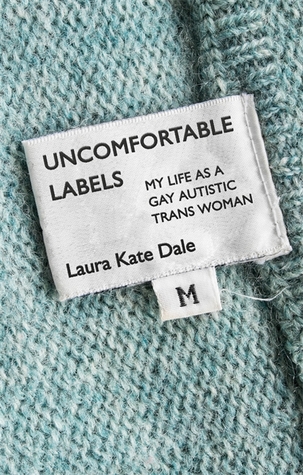 Uncomfortable Labels: My Life as a Gay Autistic Trans Woman by Laura Kate Dale (out July 1, 2019)
I was so excited to read an Advance Reading Copy of this book on Net Galley. It's not out quite yet, but I also don't expect every book club to be quite ready to read every book the first week. It's worth waiting for.
In this candid, first-of-its-kind memoir, Laura Kate Dale recounts what life is like growing up as a gay trans woman on the autism spectrum. From struggling with sensory processing, managing socially demanding situations and learning social cues and feminine presentation, through to coming out as trans during an autistic meltdown, Laura draws on her personal experiences from life prior to transition and diagnosis, and moving on to the years of self-discovery, to give a unique insight into the nuances of sexuality, gender and autism, and how they intersect. (Amazon)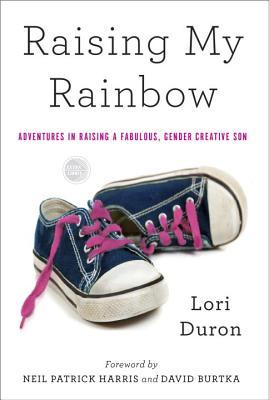 Raising My Rainbow: Adventures in Raising a Fabulous, Gender Creative Son by Lori Duron
I love this mother's perspective on raising a gender creative kiddo. It explodes the notion of a gender bianary as she creates space for CJ to be whomever CJ is.
Raising My Rainbow is Lori Duron's frank, heartfelt, and brutally funny account of her and her family's adventures of distress and happiness raising a gender-creative son. Whereas her older son, Chase, is a Lego-loving, sports-playing boy's boy, her younger son, C.J., would much rather twirl around in a pink sparkly tutu, with a Disney Princess in each hand while singing Lady Gaga's "Paparazzi."

C.J. is gender variant or gender nonconforming, whichever you prefer. Whatever the term, Lori has a boy who likes girl stuff—really likes girl stuff. He floats on the gender-variation spectrum from super-macho-masculine on the left all the way to super-girly-feminine on the right. He's not all pink and not all blue. He's a muddled mess or a rainbow creation. Lori and her family choose to see the rainbow.

Written in Lori's uniquely witty and warm voice and launched by her incredibly popular blog of the same name, Raising My Rainbow is the unforgettable story of her wonderful family as they navigate the often challenging but never dull privilege of raising a slightly effeminate, possibly gay, totally fabulous son. (Goodreads)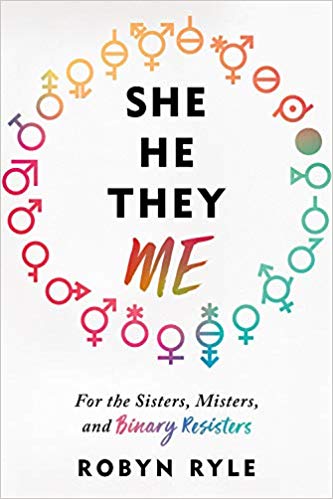 She/He/They/Me: For the Sisters, Misters, and Binary Resisters by Robyn Ryle
If your book club is fascinated by gender, has lingering questions, or needs someone to moderate your arguments, here's a good nonfiction book that's fun and highly readable. BONUS: You aren't suposed to read it back to front so you can flip around.
Open your eyes to what it means to be a boy or a girl ― and above and beyond! Within these pages, you get to choose which path to forge. Explore over one hundred different scenarios that embrace nearly every definition across the world, over history, and in the ever-widening realms of our imagination! What if your journey leads you into a world with several genders, or simply one? Do you live in a matriarchal society, or as a sworn virgin in the Balkans? How does gender (or the lack thereof) change the way we approach sex and love, life or death? (Amazon)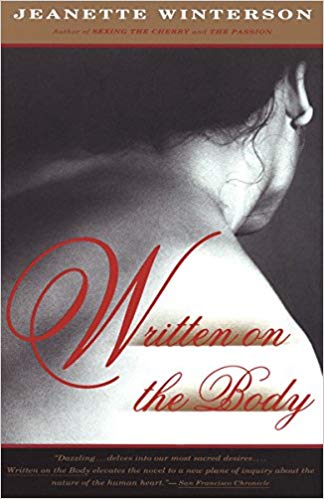 Written on the Body by Jeanette Winterson
Lastly, I'm inclduing one novel, because some people resonate more with fiction. It's not a new release, but since it's my blog, I can do whatever I like! Seriously though, in a conversation about gender, the concept of gender remaining undisclosed is an exciting idea. What happens to a book if the author refuses to assign gender? It's a gorgeous love story, no matter how you assign gender in your imagination.
The most beguilingly seductive novel to date from the author of The Passion and Sexing the Cherry. Winterson chronicles the consuming affair between the narrator, who is given neither name nor gender, and the beloved, a complex and confused married woman. (Amazon)